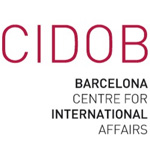 CIDOB - Barcelona Centre for International Affairs
CIDOB promotes good global governance based on democratic practices at the local, national and supranational level in order to ensure people's basic needs for freedom and a life without fear. We encourage a plural dialogue that embraces all differences. CIDOB is a dynamic team of analysts and documentalists who aim to offer political players – from ordinary citizens to international organisations – information and ideas that help to shape policies that promote a safer, freer and more just world for all.

CIDOB publishes several periodicals and books on subjects related to its main areas of work within the framework of international relations.